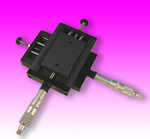 The BSI positioning stage represents a new approach to stability and smoothness for both scientific and manufacturing applications.
Our patented linear slide combines the line contact advantages of a cross-roller bearing with the stability and damping of the pure friction, dovetail design. This unique approach results in a stiffer linear bearing structure without the characteristic high coefficient of friction of conventional dovetail and square-way slides.
Although frictional values are somewhat higher than typical rolling-element slides, the BSI stage has a clear advantage in relatively low duty-cycle, micrometer-driven, positioning stage applications.
The BSI stage offers a number of important features and performance advantages:
Physically wider than many similar units for improved cross-axis stability.
Accuracy on-axis: .0001 in. (2.5 microns), full travel.
Level cross-axis: .0001 in (2.5 microns).
All mounting surfaces flat lapped.
Stage body finish: Black anodized aluminum.
Stage widths: 2 in. (50 mm), 3 in. and 5in.
Stage height: 0.75 in. (metric models:20mm).
Full travel, double spring-loaded micrometer or fine-pitch (100 tpi) engagement.
Positive on-axis manual locking.
Readily stackable in X-Y configuration.
Base adapter plate available
~ DIMENSIONS & PRICES ~
SINGLE-AXIS (X)

Work Surface
(w)
TWO-AXIS (X-Y)

Work Surface
(w)
THREE-AXIS (X-Y-Z)

Work Surface
(w)